North Platte Area Sports Commission
North Platte
AREA SPORTS COMMISSION
The North Platte Area Sports Commission is a not for profit sports advocacy organization for North Platte and Lincoln County, Nebraska which assists to identify, pursue and foster a positive economic impact for North Platte and Lincoln County through attracting, hosting and supporting amateur sporting events.
Omaha Convention and Visitors Bureau
Omaha
CONVENTION AND VISITORS BUREAU
Swing for the Fences
Home to the NCAA Men's College World Series since 1950, Omaha is a bucket-list destination for college baseball fans. Omaha's resume is filled with impressive sporting events, including the U.S. Senior Open; NCAA Basketball, Volleyball and Wrestling Championships; U.S. Speed Skating; FIVB and NORCECA Women's International Volleyball; the National Veterans Wheelchair games; and the U.S. Olympic Swim Trials (4X). Olympic coaches and swimmers praise Omaha, saying the "convenience factor is unparalleled," and that the city makes athletes and fans "feel welcome and important." The total experience is what solidified the Swim Trials returning to Omaha in 2020.
There's a reason Omaha is a player. The city is centrally located, making travel easy. Omaha has a strong volunteer base, and sporting events enjoy tremendous support from the local community. Omaha provides a unified team approach to events making it easier for event planners to do their job.
Norfolk Area Visitors Bureau
Norfolk Area
VISITORS BUREAU
We Plan, You Play.
The Norfolk Area Sports Council is committed to recruiting and facilitating sporting events and extra-curricular activities in the Norfolk Area. We promote and support special events throughout the year for both youth and adults. We have fun, build strong relationships and help our members make the most of the vast resources and social opportunities.
Sarpy County Tourism
Situated between Omaha and Lincoln, Sarpy County offers a wide array of sports venues to host your next event. From a 50,000 square foot indoor volleyball facility to Werner Park, home of the Triple-A Omaha Storm Chasers, providing a unique baseball experience for both players and fans alike. Sarpy County is equipped to handle any sports related request.
Columbus Area Convention & Visitors Bureau
Columbus
AREA CONVENTION AND VISITORS BUREAU
The Columbus Area Convention and Visitors Bureau and the City of Columbus Parks and Recreation invite you to feel the difference.
Columbus prides itself on fine hospitality, facilities and services. We have 10 hotel/motels offering a total of 675 guest rooms. Columbus is vibrant with many leisure activities to suit all ages including shopping in specialty shops/boutiques, antique stores and malls, a variety of dining options, golfing, relaxing and playing at our recreational facilities, and much more. You'll find fabulous facilities to host sporting tournaments, car and motorcycle shows, craft shows, horse shows, golf and horseshoe tournaments, the Platte County Fair, Columbus Days, live thoroughbred horse racing, conventions, meetings and other events. Centrally located between major cities and a short driving distance to Eppley Airfield, let us customize your experience and roll out the red carpet welcome for your teams and groups.
South Sioux City Convention and Visitors Bureau
South Sioux City
CONVENTION AND VISITORS BUREAU
Whether looking to plan an athletic competition, or your more into hunting and fishing, or you just want to camp along the mighty Missouri, South Sioux City will oblige.
Grand Island Convention and Visitors Bureau
Grand Island
CONVENTION AND VISITORS BUREAU
Grand Island has hosted scores of regional and national competitions — equine, shooting, wrestling, basketball, archery, bowling, cheerleading, soccer and more. We have a high rate of return events, evidence that Grand Island knows how to make sporting competitions and tournaments successful.
Grand Island offers a diverse array of top-notch venues from an arena that can seat more than 7,500 to a state-of-the-art shooting park. We're equipped to handle competitions in virtually any sport from equine to archery, from trap shooting to wrestling, from dance to basketball.
Fremont Convention and Visitors Bureau
Fremont
CONVENTION AND VISITORS BUREAU
Located within a relatively short drive from metropolitan communities such as Omaha and Lincoln, Fremont is ideally located for short weekend and getaway vacations. Fremont boasts a number of water-related activities, such as Fremont State Lakes, Bryson's Airboat Tours and Splash Station Water Park.
Spend the day in eastern Nebraska's county for unique shopping, delicious dining and friendly service. You'll have a wonderful time exploring eclectic shops, eating at our unique restaurants and sightseeing within our unique communities – in Dodge County!
Hastings / Adams County Convention & Visitors Bureau
Hastings
ADAMS COUNTY CONVENTION AND VISITORS BUREAU
The Hastings/Adams County Convention & Visitors Bureau invite you to come explore Hastings, where we attract and inspire visitors to discover the venues, events and attractions in Adams County.  Hastings is a city with small town charm, and is centrally located in the middle of the state. When you visit, you will find that we are a friendly and thriving community where relationships, the arts, sports and history merge with unique experiences and endless opportunities. Our historic Downtown is the heart of the city. There you will find locally owned restaurants, boutiques, breweries, coffee shops, upper-level living and more. Hastings has a total of 12 hotels/motels offering a total of 669 guest rooms for overnight or extended stays during business trips, family visits, festivals, sporting events or weekend getaways.
Hastings is the host-city for many state and regional tournaments. We play a role in the cultivation of a championship atmosphere and are honored to support organizations that celebrate and promote our community on a consistent and successful basis. We are known to bringing teams of all ages from across Nebraska and out-of-sate throughout the year to compete in various sporting activities. Hastings is privileged to have the Smith Softball Complex, which is recognized as the most elite-top-notched softball facility in the state of Nebraska. In addition, Hastings has three golf courses, twenty city parks, the historic Duncan Baseball Field, Adams County Fairgrounds, Hastings City Auditorium, the Hastings College facilities, Pioneer Spirit Trail (walk/run/bike), Hastings Family YMCA and Hastings Aquacourt (olympic sized pool), Motorsports Park Hastings, Kam Raceway and Four Rivers Sportsman Club. These facilities are equipped to host various events.
Omaha Sports Commision
Created in 2003, the Omaha Sports Commission is a not-for-profit entity dedicated to making Omaha one of the premier sports communities in the United States.
The Commission works closely with area businesses and community leaders to help recruit and promote amateur sporting events. The OSC is a "total service event team", meaning that it is involved in all aspects of event management from bid selection and preparation to Event Hosting and Event Enhancement to post-event evaluation.
Kearney Visitors Bureau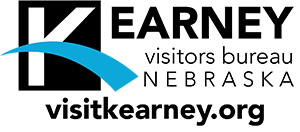 If you can kick it, throw it, shoot it, hit it or ride it…we can host it!  
Whether you take one of our daily flights to/from Denver or drive in on Interstate 80, Kearney is where you want to be!  Kearney is the perfect location for your next event and when it comes to sports…Kearney has so much to offer.
You get the advantages of big city venues without the big city price!
We have fantastic venues including facilities equipped for wrestling, hockey, BMX, soccer, basketball, golf, drag racing, equestrian and much, much more!
Lincoln Convention and Visitors Bureau
Lincoln
CONVENTION AND VISITORS BUREAU
Go for the gold in Lincoln.
Like you, Lincoln is always up for a challenge.  Here, the city has been known to host events across the spectrum. From baseball to bowling and jogging to juggling, Lincoln is the prime location to host your next sporting event.
If you're looking to draw people from across the country to your event, Midwest really is the best. Centrally located, we invite people from each coast, north and south to meet ­­­in the middle. We're less than a day's drive from key Midwestern cities like Denver, Omaha, Minneapolis, Des Moines, Kansas City, St. Louis and Chicago, hurrah! Not to mention our airport connects to several locations across the U.S. — now that's something to cheer for.